Working on a quadriptych
(A four-panel oil painting)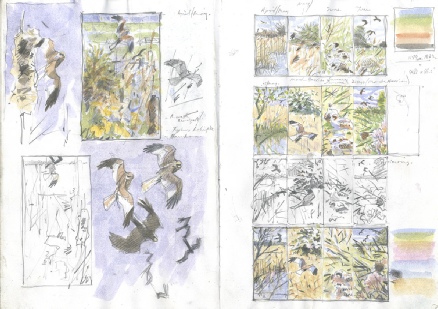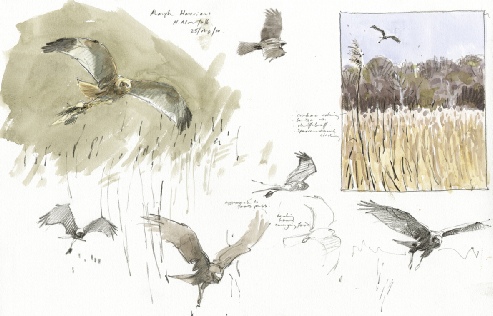 Early on, from when I was at art school in the early 1970's, I had an interest in film making. After college I worked in the RSPB film unit before becoming a full time artist but was able subsequently to be involved in making natural history films. Firstly for the BBC and later was lucky enough to present a series of television programmes for Channel4. (See Archive page)
That was all a long time ago, but over the years since I've retained an interest in the language of film,in themes and storylines, and in the technical junction of image sequences. As my work sometimes has strong narrative elements for a while I've been exploring how paintings and prints might be joined together to create a single work - the whole enterprise itself being a 'work in progress'.
The large oil painting (left) was a commission and I used the opportunity to tell a story about marsh harriers, fens and seasons.
One of a number of field sketchbook pages of marsh harriers at Sculthorpe Fen, Norfolk
Studio sketchbook laying out composition ideas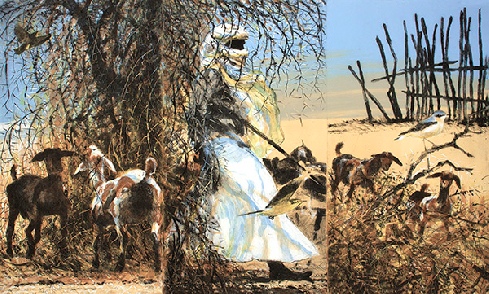 Sahel
Drypoint and carborundum,
An intaglio print from 2015 where I wanted to join together a number of related sketches gathered over a few days to create a single image that told a story about the harsh landscape, the people and the lives of wintering migrants in the Sahel region of West Africa.