TROUBLED WATERS
Trailing the albatross, an artist's journey
Bruce Pearson
ISBN: 1904078487
Number of pages: 136
Size: 305 x 245mm
Hardback
Signed copies available
£20 + p&p (current UK p&p £5.60)
Please use Contact page to order

"This is a book to cherish, equally for its artwork and for its at-times lyrical writing."
Review by John Cooper
ACAP Information Officer

'Troubled Waters' is a triumphant exemplar of the growing role that art can play in driving wildlife conservation by raising awareness and inspiring positive action.

"…his work at sea has the freedom, fluidity and confidence of someone liberated by deep inner knowledge of his subject and highly energised by its sense of theatre and conservation urgency. Pearson's mastery of not only seabird body language but also of wind, waves and light, combines to render this a passionate, compelling and visceral portfolio".

"This is a wonderful book".
British Birds
Review by Professor Andrew Clarke

"Bruce Pearson has no equal in this genre of framing nature in its raw environment. The majesty of flight is captured to perfection. The sea and spume flies off the page with the unique Antarctic landscapes full of the magic light and colour unique to these regions. Bruce is simply the very best, a true master, entering this book you are riding the waves with the artist and his subjects. Truly beautiful"!

"Fascinating insights beautifully illustrated. A well thought personal account which really gives you the feel of the place and its wildlife".

"Superbly illustrated book based on paintings made during many visits to the Southern Ocean".
Amazon UK
Buyers reviews
A few spreads from the book (click to enlarge)
---
Troubled Waters
Birdlife Special Edition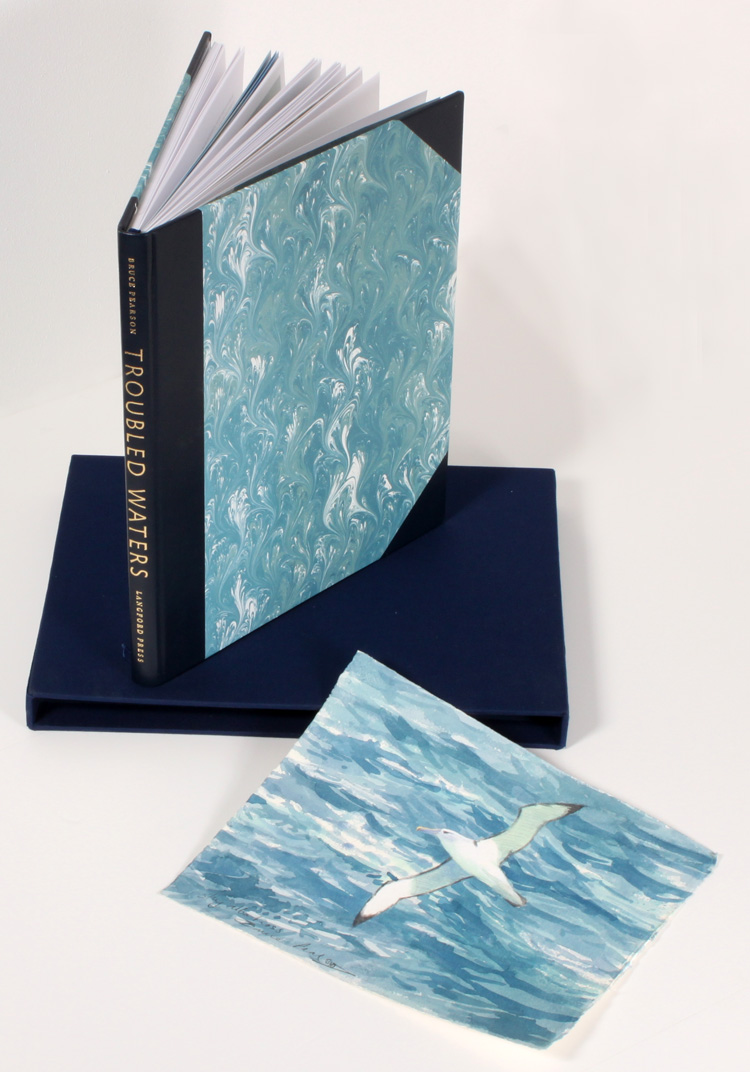 100 leather bound copies of the Troubled Waters book - each signed and numbered, presented in a slip-case and delivered complete with an original watercolour painting by Bruce Pearson are being sold by BirdLife International to raise funds for seabird conservation. Minimum price £200

To order or make further enquiries please either contact BirdLife direct or complete the Contact Form on this website and I'll be in touch.

Thank you
One of the small watercolour paintings includeed with a copy of the special edition of the book
---