Art in the Arctic - Svalbard

June 28th - July 7th 2018

The highlights were many, and working with the other artists was a great experience. But the polar bear encounters were extremely special and varied.

From a large male on the shoreline framed by the dark slopes of scree beyond, to a female with two cubs resting and sleeping for most of the time we kept watch.
From a young male swimming far out at sea a considerable distance from the the ice front, to another young male constantly checking the breeze while he watched a distant female working her way upwind around an ice-jammed bay.

(Above) A female polar bear on the open sea ice with to cubs. While she was lookng around raising her head to sniff the breeze constatnly watching for the movement of a seal, apart from her the cubs huddled together on the ice. Sometimes the cubs dozed and other times interacted with each other but kept close.

Eventually coming back to the cubs the female then settled on the ice close to them, sitting down and laying her head across her front paws.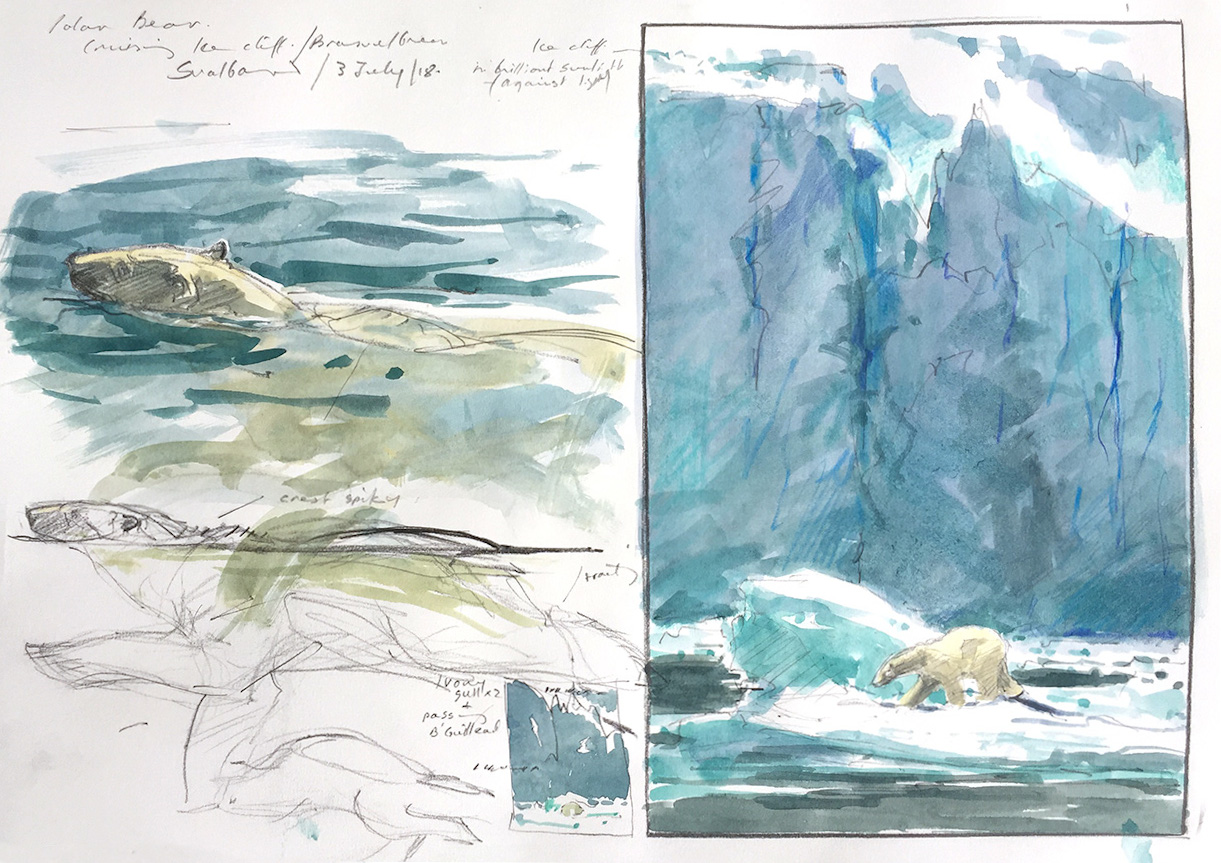 Back in the studio I looked again through one sequence of sketches made when watching a male polar bear swimming between ice floes a long way from the ice front paddling powerfully at sea. As the bear came closer, looking down I could see the animal's fur streaming out and flowing around the powerful underlying shape of the bear. Its colour, and the bear's movements so clearly visible beneath the surface of the deeply turquoise sea made such an impression.

I thought one way to emphasize the experience back in the studio would be to work on an intaglio print. The method would allow for some unpredictable expressive marks, and using card for the layered colours around the bear, would hold back on the temptation to get distracted by detail.
© 2021 Bruce Pearson. All Rights Reserved.